Miles & Daughters Funeral Directors
Miles & Daughters Funeral Directors was founded in 1999 and is now synonymous with all that is best in funeral direction.
Our services and facilities have been carefully and thoughtfully developed to provide a combination of immediate attention, personal care, efficiency and professionalism.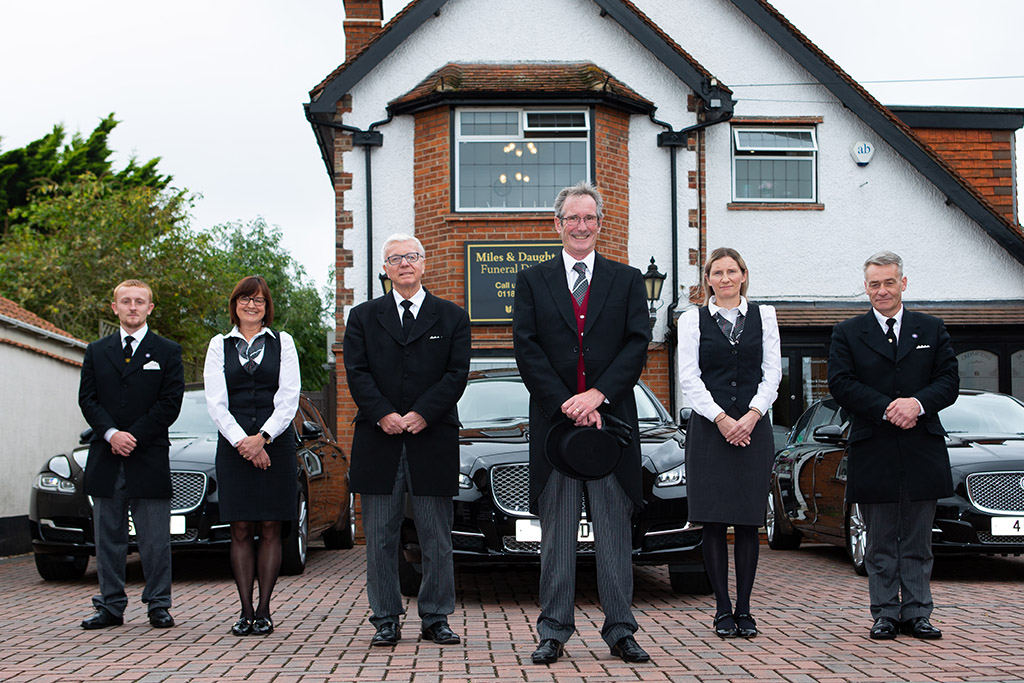 Our Funeral Plans
Choice Essentials Funeral Plan
Covers all essential Funeral Director services
From £2,650
Choice Plus Funeral Plan
Covers all essential Funeral Director services plus embalming and a chauffeured limousine for up to six passengers
From £2,925
With a Choice Funeral Plan
Our Funeral Plan enables you to prepay for certain elements of your funeral in advance and fix the cost of Funeral Director Services, protecting you from the risk of these rising.
The Funeral Director Services are included
You have the option to make Voluntary Contributions towards Third Party Fees and Additional Products & Services
You will not require a medical assessment
You are able to record your wishes to help your family make decisions when the time comes
Choose a Branch to buy your Funeral Plan
Reviews
Reading

Rating: 5 from 119 reviews View on Google Maps

Barbara Richards

10 months ago

My wife had been ill for many years with Dementia and was deteriorating quite quickly and so in the Spring of 2022 I decided to look into pre-paid funeral plans for my wife and for myself. I contacted another funeral director first who was less than helpful. However my initial phone conversation with Lisa, at Miles and Daughters, Caversham, was lovely. She was instinctively kind and compassionate. She invited me to come into the funeral home to meet her and talk about things. There, I was made to feel welcome and comfortable. Lisa was truly interested in Sue as a person and in us as a couple. I immediately felt that I was in the company of a friend. She listened to all the thoughts and ideas that I had for our funerals, that would make them personal and individual to us. She guided me and helped me to find exactly the right touches and special things that were exactly right for us. On the night that my wife died, in a Nursing home, I rang Lisa as we had arranged. She was away but was still on call. She was so lovely to me and arranged for her staff to come to the Nursing home and for Sue to be taken into the care of the team at Miles and Daughters. When Lisa returned we met several times as we carefully worked through all of the arrangements. The Service booklet that Lisa put together, based on what I had planned, was absolutely perfect and beautiful. I was able to go to see Sue and Lisa had washed her hair and helped her to look her beautiful self. I was not at any point anxious about how things would be on the day of the funeral. I knew I was in the hands of Lisa and her team and in a quiet, calm and professional way they knew exactly what they were doing. Therefore everything ran so smoothly and exactly as I wanted it to be. I want to stress how at every step of the way, my deceased wife and myself were cared for with respect and dignity. This was real and genuine and I felt so loved. All of this meant that my wife's funeral or rather 'Celebration of Life' left me, and everyone else who attended, feeling proud and happy that we had been able to say Goodbye in a way that was perfect for this person that we loved. I cannot speak highly enough, or recommend highly enough, Lisa and her team . They are wonderful and go way above and beyond what you might expect. As I said at the beginning, I pre-arranged a funeral for me too. I have no relatives. But it doesn't matter, because taking me to my final resting place are going to be people who really care. Thankyou.

Vince Ilott

2 months ago

It's never easy losing a loved one, but the level of service & attention to detail we received when we recently had a cremation for our beloved Dad was second to none. All of the people we met & dealt with from Miles & Daughters (Caversham branch) conducted themselves impeccably and made our experience as pleasant & stress free as possible. My brother & myself had an appointment with Lisa Parker to arrange the cremation, & we were treated with superb professionalism & compassion. We decided on a service which reflected on dad's time in which he served in the Royal Navy during WW2 on minesweepers, & his coffin was draped with the Union flag accompanied by his medals which was very moving to see. The memorial service cards we had done were also very well produced & showed that a great deal of thought had gone into there production. The service from start to finish was faultless and the celebrant Sarah Sealey gave a very moving eulogy which was well received by family & friends. Lisa kept us well informed with emails and phone calls but never intrusive & just gave us that extra feeling that everything was under control & any queries were dealt with swiftly & efficiently. To sum up we would definitely have no hesitation in recommending Miles & Daughters based on our experience. Thank you.

Andrew Powell

4 months ago

Having never been in this situation before and therefore not understanding the process, it was a huge help to have Lisa's professional knowledge and guidance, which she gave in the most respectful and friendly way. No one ever wants to be in this situation, but it is made easier by having good people offering their support. The services offered by Miles & Daughter were varied, reasonably priced and we were easily able to find the right options to suit our requirements, taking some of the stress out of the situation. Highly recommend Miles & Daughter with particular thanks for Lisa for her help and support.

Les Brock

5 months ago

It is never easy losing a loved one but, Lisa at Miles and Daughters has been so supportive and helped ease the process of organising Mum's funeral. I cannot recommend Lisa highly enough. Her manner and willingness to do anything she can to make things less stressful was so appreciated. Her professionalism is to be commended. Thank you Lisa for everything you did for us,

Gill Allen

3 months ago

We first had the privilege of using Miles and Daughters for my Fathers funeral in 2018, using their branch in Winnersh, as it was closest to my fathers home. The following year we lost my father in law, again turning to Miles and Daughters this time the Caversham branch. In July of this year we lost my dear mother in law, once again we had the fortune to use Miles and Daughters. The care, compassion and expertise we encountered at each of these very sad occasions was second to none, the wonderful Lisa at the Caversham branch talked us through every part of the process with such thoughtfulness shown to each and everyone of the family. She went above and beyond to help us , her kindness is something we will never forget. We would not hesitate to recommend Miles and Daughters to anyone , we cannot fault them at all.
Maidenhead

Rating: 5 from 23 reviews View on Google Maps

Dawn Bailey

5 months ago

The service and support we received was exceptional and although nothing at this time can take away the grief you are experiencing, it makes it a little easier when they go above and beyond to ensure all your needs are met from beginning to end. A special thank you to Jill (Maidenhead branch) for being so kind, supportive and helpful.

JDA

5 months ago

It is always a sad time when one loses a loved one and having to deal with all that is entailed. My sister, a widow, passed away and being the only relative close by I had to arrange her affairs and her funeral wishes. I was recommended Miles&Daughters in Maidenhead whom I contacted. From the moment I met Jill in her offices and went through the necessary processes I felt a great burden had been lifted off my shoulders. Her empathy and kindness in explaining the procedures leading up to the funeral, including engaging the celebrant for the service, was handled with such professionalism. No detail or question was too much trouble. The funeral itself, entirely managed by Miles&Daughters, was conducted with such dignity that all present felt that my sister leaving us was celebrated in a beautiful way. Thank you Jill & Miles&Daughters. JDA

Susan Voskar

2 months ago

Miles & Daughters were exceptional in looking after our fathers funeral. They were kind and respectful always. I am forever grateful.

Tracey Solarz

9 months ago

We used Miles & Daughters recently and they were amazing. Nothing was ever too much trouble from the organisation right through to the day of the funeral. The staff were so very supportive to our family and we would like a special mention to Jill and Lisa. I can highly recommend this company who will care, support and guide you through a difficult journey. Please do not hesitate to use them.

Marianne Boden

a week ago

Would highly recommend Miles and daughters, Jill and the team at Maidenhead branch made the day run smoothly and did it with care and love
Wokingham

Rating: 4.9 from 47 reviews View on Google Maps

Wendy Goodall

3 weeks ago

When we sadly had to arrange a funeral service for my Mum, Lucie at Miles and Daughters in Winnersh was highly recommended by another family member. Lucie's kindness and professionalism were second to none. She listened and guided us throughout with great sensitivity and compassion. We felt in safe hands and more importantly we felt Mum was in safe hands. Her send off last week was beautiful and elegant, just like Mum, and we continue to receive support from Lucie as we go forward. Thank you Lucie and all the team at Miles and Daughters in Winnersh.

Tiffany Walter-Brown

a month ago

Thank You to each and every member of the team who supported us and gave my Nan the send off she deserved. Communication and honesty is key and you went above and beyond. Daniel, Mary, Lucie and Ryan are just 4 of the team we'd like to thank from the bottom of our hearts for all your professionalism and care. You took the stress and the time to make us feel more at ease. You gave my Nans final journey the respect she deserved. Thank you for caring for her when we were no longer able to!

Cin-Duen Hopkins

4 weeks ago

I was recommended by a friend to use Miles and Daughters as they used the Caversham branch. We chose the Winnersh branch as it was closer to home. As I had never planned a funeral before I was very nervous going into the first meeting but Debbie made us all feel at ease and has been amazing throughout the whole process. She explained all our options and made planning the funeral as easy as possible. The whole team have been fantastic and helped give my dad a good send off.

Meg H

3 months ago

I cannot recommend Sally and the whole team at Miles & Daughters highly enough. We sadly lost my Granny who had a funeral plan in place with Avalon. Miles & Daughters were the funeral directors advised on my Granny's funeral plan. How fortunate we were to be introduced by Avalon to them. Every single engagement I had with them has been an absolute pleasure, attention to the smallest of detail has been perfect. My granny's funeral was the most wonderful send off for an amazing person and we have Miles & Daughters to thank for that! I will recommend Miles & Daughters to all of our family and friends. To anyone reading this if you are looking for a funeral director for a loved one, you won't find a better one than Miles & Daughters! A heart felt huge thank-you to the whole team for your professionalism and exceptional attention to detail it is so very much appreciated! With love from myself and my whole family

Laura Johnson

6 months ago

From the moment we met Kelly - we knew we were in safe hands. Kelly took care of everything, explained everything thoroughly and made sure no question was a silly question. Nothing came across like a process or system - there was a genuine care for my mum, who had passed, and our family. The conductors were so kind on the day - the cared for us all, were patient and attended to every need. We are so glad we used Miles and Daughters. Can't recommend them enough.
Twyford

Rating: 4.9 from 9 reviews View on Google Maps

Andrew Rees

4 months ago

On behalf of all of us we would like to thank you and your team for your help and support throughout the build up to the service and the actual day itself. Everything went extremely smoothly and to plan. This made a difficult day a little easier for our family. We would have no hesitation in recommending you to others.

mark adams

a year ago

Throughout the whole process the team at Miles & Daughters were compassionate and helpful. My lovely mum had a wonderful funeral albeit small. Thank you all for making it all so much easier for me. Lin & Mark Adams

David Bingham

7 months ago

Everything was made very easy which was just what we needed. Thanks to Nikki.

Nicola Kelly

5 months ago

Dignified and professional service. Thank you

Jessica Dean

a year ago

Miles and Daughters looked after us so well, I would thoroughly recommend them. They were exceedingly kind, considerate and professional.
Binfield

Rating: 5 from 17 reviews View on Google Maps

Jo Candy

2 years ago

Sue at Miles and Daughters Funeral Directors Binfield was the most helpful ,caring, compassionate ,sincere and professional lady , at our most sad time , Sue helped us all as a Family make the funeral arrangements go smoothly. Sue always kept us informed and nothing was ever too much trouble for her. I would 100% recommend Miles and Daughters Binfield branch , Sue is an asset to the Company and I know you will be in very safe caring hands at a very difficult time Thank you very much from all The Family

Lorraine Parker

a year ago

Would highly recommend the Binfield office. Sue was amazing and done everything she could to ensure we understood what would happen and that our every wish was carried out. Becca our celebrant was also amazing, she learnt about my dad through us and made it sound like she had known him forever. The rest of the team on the day were also amazing, vey professional, kind and courteous. Would recommend them to anyone when they need some comfort and reassurance at this very emotional time.

Patricia Lomas

2 years ago

Miles & Daughters offer a caring, personal and professional service. Sue discussed the options available for the funeral arrangements with myself and my daughter and gave us time to choose our preferences. She also took great care of my husband while he was at Binfield. Everything went perfectly on the day. Thanks to Sue and her team we were able to have the funeral which we wanted.

Val Hincks

3 years ago

We received excellent service from Miles and Daughters Funeral Directors, Binfield. Sue provided an exceptional and personal service throughout. She looked after our lovely mum and us, dealing professionally with all the funeral arrangements and always with great kindness and sensitivity. The team ensured that everything went smoothly on the day, nothing was too much trouble, and all our wishes were carried out with care, dignity and respect. We couldn't have asked for more and offer our heartfelt thanks for making a deeply sad and difficult time just that bit more bearable.

Elaine Douthwaite

2 years ago

After receiving excellent care at Miles and Daughters Binfield 7 years ago we called them again to arrange my Mother's funeral. Despite the current restrictions we were once again helped with all our arrangements by such a friendly, understanding and professional company. We were kept fully informed and guided through each stage. They provided a compassionate, constant contact as well as a warm friendly person to conduct the service and ultimately provided a stress free build up to a lovely send off. There is a choice of plans that offer a range of options and give a breakdown of everything you need.
Crowthorne

Rating: 4.9 from 42 reviews View on Google Maps

L Percival

a month ago

Lucie was enormously knowledgeable and helpful. She was aware of all the small details that we needed to consider to make sure the funeral of my dear friend went perfectly. She was always very respectful and took time to hear about what my friend was like so we were able to arrange exactly the funeral she would have wanted. I highly recommend Miles and Daughters.

Pam G

3 months ago

Once again, Irene in the Crowthorne office was so helpful and kind in helping us arrange our mum's funeral in June. This is the second time Irene has helped us, as our dad passed away in October 2020, and once again she helped us arrange the funeral we wanted. She understands exactly what you are looking for and helps you achieve how you want to say goodbye to your loved one. You can ask her anything and still feel at ease. We went to see our mum laying in rest in Winnesh and everyone there was lovely and on the day, the Funeral Director talked us through everything, Including explaining to the grandchildren how to carry in the coffin. Everybody makes sure you have the service you want from start to finish, so you can just focus on saying your final goodbyes.

Karen Todd

2 months ago

When we lost my Mum I had no idea where to start with funeral arrangements . Mums care home recommended Miles And Daughters and we were pleasantly surprised to find that there was a branch in Crowthorne where my Dad lives . We met with Irene the day after Mum passed and right from the start she was amazing . She put us completely at ease and gave us all the time we needed to make our choices . She really went above and beyond at every stage . The staff at the Winnersh branch were also lovely on the two occasions we visited Mum in the chapel of rest .On the day of the funeral the undertakers guided us very professionally through every step of the day .. we didn't have to worry about anything . They made a difficult day so much easier . The support Miles And Daughters showed us as a family was second to none and they made my Mums final journey a very special one ..As a family we will always be grateful to them for all they did and I would highly recommend their services … from the bottom of our hearts Miles and Daughters …. Thank you xx

Penny Hutchens

a month ago

Arranging a funeral from Australia was made so much easier with the help of Irene and her assistants at Miles and Daughters Crowthorne. Irene answered every question we had, promptly and kindly and guided us on every aspect without at all taking over. The service was just as we wished and we are extremely grateful to her for making a difficult situation much simpler.

Alison Nevin

4 months ago

Very thoughtful service at a very difficult time. Highly recommend. Irene goes above and beyond to make sure everything is covered and helps you step by step. Unfortunately have had to use Miles and Daughters twice now and would definitely recommend.
Tadley

Rating: 4.7 from 23 reviews View on Google Maps

Tilly Luscombe

2 months ago

We lost our lovely Mum in August and were so fortunate to have found Miles and Daughters. Geoff and Emily were so kind and compassionate yet thoroughly professional throughout all the times we met and spoke. The day of the funeral was daunting for us all, but again every little detail was taken care of and we were able to give Mum the most incredible send off. Thank you so much Geoff and Emily, you are both beautiful people and despite the difficult situation, you made our journey so much easier. We wouldn't hesitate to recommend using the services of Miles and Daughters - I'd give more than 5 stars if possible.

natasha thomas

2 months ago

I don't even know how to start this review but here we go. I've recently lost a baby and had to arrange a service for my little one not knowing where to start. I was well and truly blessed when Miles and daughters said they could facilitate this for me and let me tell you they were the most outstanding funeral directors. Highly professional,calm and compassionate every step of the way they supported me in ways I didn't think they could. They explained everything down to the finest detail and put myself and husband at ease. I would highly highly recommend this funeral directors I dealt with Geoff and what a lovely man he is I will be forever grateful for everything they done for me.

Victoria Palmer

5 months ago

A huge thank you to all at Miles & Daughters, Tadley, for their incredible compassion, care and handling of our beloved Mum. Emily (who we dealt with throughout and is brilliant) went the extra mile, multiple times, to help ensure that a difficult and confusing time, was as stress free and clear as possible. No ask was too big, no question was too stupid and every request was honoured. Geoff & his team on the day were professional and flawless. Helping us as a family know what we needed to do and ensuring the funeral from beginning to end was executed to precision. One thing that you never want to need recommendations for is a funeral directors, but if that is what you are looking for, then look no further - this team is phenomenal.

sally wakes

2 months ago

Miles and daughters Thank you Geoff for being so supportive caring understanding. True compassion was shown throughout. Not all other local funeral directors show the same compassion as you have.

Sandy Tootill

a year ago

From the moment we met Rachael at Miles & Daughter in Tadley, up to the day of the service, we were looked after and supported completely. There was always a calm and reassuring response to our questions, and nothing was ever too much trouble. All the hard work was taken care of from beginning to end, giving us space to come to terms with our loss, and we knew that the day would be perfect. Geoff was with us on the day and treated Martin with dignity and professionalism, ensuring he had the send off he deserved. Celebrant Alison organised the ceremony beautifully with just the right mix of sadness and celebration of Martin's life. I will not hesitate to recommend Miles & Daughter to anyone who needs their services in the future.